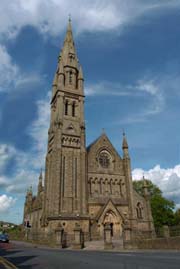 Part of the site presently occupied by St Patrick's was leased, in 1799, from Lord Ranfurly (the local Landlord) at a cost of just over £2 per year.
The parish priest at the time was Rev. Henry Conwell who later became Bishop of Philadelphia in the United States.
In 1865 Dean Felix Slane leased a further 31 perches from Ranfurly to build a larger and more permanent structure to accommodate the growing Catholic population. Among the conditions of the lease there was a stipulation that no part of the property was to be used as a burial ground nor was any dwelling house to be built of stone unless for the use of the Master or Mistress of a school.
The architect employed for the project was the outstanding J.J. McCarthy who was responsible for the completion of cathedrals and churches all over Ireland including those in Armagh, Monaghan, Dublin, Maynooth, and Derry. The builder was Thomas Byrne, Belfast and the cost excluding the tower, spire and furnishings was £7,720. The work began in 1867 and the church was dedicated and opened on Trinity Sunday 11th June 1876. The tower and spire cost £2,880 and were built by Patrick Hurson, Edendork, and was completed in 1883.
Refurbishment
The interior and exterior of the Church was refurbished from 2007 – 2009 at a cost of over £3 million. The architect was Paul Mongan of Gregory Architects and the main contractor was Colin McKee of Moss Construction Ltd. Outside the work included: all stone cleaned, re-grouted and replaced where necessary; all crosses replaced or restored; the roof retiled,; a new entrance to the sacristy with dressed sandstone, lifts and emergency exits; disabled access and parking.
Inside the work included new wooden floors and tiling; walls re-plastered and painted with specialist materials; new heating, lighting and amplification; a lift to the choir loft and refurbishment of the organ; installation of cameras to allow streaming of ceremonies on the internet; modernisation of the sacristy and improvements to St. Teresa's Hall.
Unseen work included a major project below the sanctuary floor to strengthen and secure the East wall. A series of girders and cables have been tied into the wall to prevent subsidence. The project was funded by the generous contributions, many still ongoing, made by the parishioners, former parishioners and friends. The parish received no grants from outside agencies.