Churches in the Parish of Dungannon
Church of St Patrick, Dungannon (1876)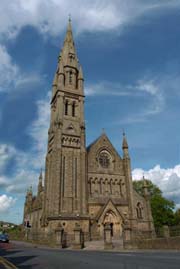 Part of the site presently occupied by St Patrick's was leased, in 1799, from Lord Ranfurly (the local Landlord) at a cost of just over £2 per year.
The parish priest at the time was Rev. Henry Conwell who later became Bishop of Philadelphia in the United States.
In 1865 Dean Felix Slane leased a further 31 perches from Ranfurly to build a larger and more permanent structure to accommodate the growing Catholic population. Among the conditions of the lease there was a stipulation that no part of the property was to be used as a burial ground nor was any dwelling house to be built of stone unless for the use of the Master or Mistress of a school.
The architect employed for the project was the outstanding J.J. McCarthy who was responsible for the completion of cathedrals and churches all over Ireland including those in Armagh, Monaghan, Dublin, Maynooth, and Derry. The builder was Thomas Byrne, Belfast and the cost excluding the tower, spire and furnishings was £7,720. The work began in 1867 and the church was dedicated and opened on ...
Read More
Church of St Malachy, Edendork (1814)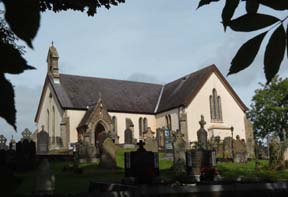 Church of St Brigid, Killyman (1786)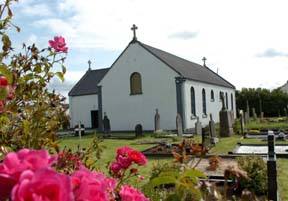 Church of Sacred Heart, Clonmore (1837)